Continuing our sojurn across the US, we said good-bye to Gaily, Jackie and Stan on December 4th and started our trek east toward Clearwater for Christmas. First stop, after dumping our tanks and filling up on propane was Cedar Pines Park outside of Ore City, TX.
No Overnight Camping
We had located Cedar Pines Park on one of our various apps for overnight parking. Looked all fine, and the site was great. Right on a lake, quiet, nobody around. So we pulled in, set up and hunkered down for the night.
Unfortunately, we didn't see the "No Overnight Camping" signs, which the Ranger pointed out the next day.  It was a bit late in the day, but we packed up and headed out to one of the campsites on the lake that IS set up for RV camping.
Buckhorn Park
Buckhorn Park is one of the Army Corp of Engineers campgrounds, which we really like.  They are usually right on a body of water, and are always clean, well maintained and spacious.  And, so far, they have been reasonably empty, which is also nice.  (Oh, and with Jere's Senior Pass, they are really cheap!)
We stayed at Buckhorn Park for 5 nights, enjoying the lake and surrounds.
One odd thing in this park was the dead tree in the back corner that was always populated with many, many big black birds.  I'm pretty sure they were turkey vultures.  And MAN, were there a lot of them!!
Bathhouse Soapery and Caldarium
After leaving Buckhorn Park, we headed east, to Natchitoches, Louisiana.  First thing I learned is that it's not "Nach i toche" or "Nach i toch es" … it's "Nack uh  dish".  Who knew!
Normally we avoid the towns, but this was a special occasion to stop in at Charlene Simon's Bathhouse Soapery and Caldarium. The store was awesome.  Charlene has a great sense of style and design – it's easy to see why she has more than one successful retail store. I bought some soap (every soapmaker needs more soap), a great salve, and some sugar scrub.
Leaving Bathhouse Soapery, we headed south-ish to our next Army Corp of Engineers campground.
Colfax Recreation Area
The ACE has a great campground on the Red River in Colfax.  We hunkered down in a nice spot and spent 4 days there.  There was lots of open space so Duke had a good place to run.  Turns out he actually likes to swim, and can retrieve anything as far as I can throw it (keep in mind I will never, ever be picked as a pitcher on any baseball team!).
It was very quiet, which meant that it was okay for George to be out and do some exploring.
Crossing the Mississippi
Leaving Colfax on the 14th of December, we continued east, crossing the Mississippi River and entering Mississippi at Natchez.
Of course, I had to stop (on the Louisiana side), get out and actually STAND in the Mississippi river.  Man, it's big!
Prentiss, Mississippi
We stopped at the Lion's Club Park in Prentiss, Mississippi to have lunch.  Very pretty little park and it was a perfect place to take a break.  Unfortunately, George decided to bolt out the door and refused to come back.  There was just enough traffic on the road and a few people coming and going in the park that he was afraid to come out from under the bus.  So we waited.  And waited.  And waited.  Towards the late afternoon it became obvious that we weren't going to make it to a new place to camp, and overnight parking wasn't allowed at the park –  so I went down to the police station to tell them what was happening.  Once I finally FOUND the police station (Google maps completely failed me in the directions), the guys were very understanding.  I told them we were waiting for the cat, and they said they'd have the patrol check on us during the night.  I got the idea it wasn't the greatest area once it got dark.
Back at the bus, as soon as it got dark and the traffic died down, George came wandering up to the bus (looking completely innocent) asking for dinner.  Troublemaker.
After a surprisingly good night's sleep, we were on the road first thing in the  morning – all animals accounted for.
Florala, Alabama
From Prentiss we had our longest driving day to date – 240 miles – to get to Florala City Park, in Florala, Alabama.  It was a very nice little park, right on a small lake.
We did a little exploring in town …. apparently you can get the best bang in town at Betty Boop's Fireworks.  Something about it just called out to me to take a picture of the sign.  I guess the interpretation depends on your age and linguistic history.
According to our phone GPS, our campsite put the living room of the bus in Alabama and the bedroom in Florida! We stayed there 5 nights.
Another WalMart
From Florala we headed to 1-10 just west of Tallahassee, and booked it across the Florida panhandle to Jacksonville.  It was a new record driving day – 302 miles – and was nearly all on the freeway (something we try to avoid as you can probably gather from the name of this blog).  The idea was to stay one brief night at the Walmart in Fleming Island (south of Jacksonville), but once again, George bolted.  It was a 24 hour Walmart, so there were cars and lights and people all day and night.  We ended up staying there an extra night in order to get him back.  (Yes, there is a bit of a pattern …. good thing we weren't in a big rush.)
All Legal in Florida
Our next stop was Green Cove Springs, in Clay County, where we have our mail forwarder.  Since that's our address of record, we needed to go there to change our drivers licenses, register the bus and car, and get our voter registration completed.  And we picked up our mail.
I wondered how they were going to handle the issue of a "physical address" which is required on a drivers license. Apparently they do this a lot in Green Cove Springs, because it wasn't any issue at all.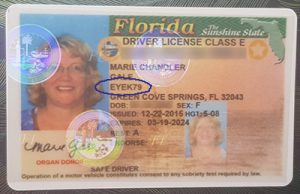 The "street" address on our drivers licenses is the license plate of our RV.  Really!  (I wonder what the FDA would think of that as a street address?)
It only took a couple of hours and we were all set!
Yet Another Walmart
Our next stop was the Walmart in Palatka, Florida. Walmarts, when they allow overnight parking, are nice stopping points along the way.  In addition to being safe and well-lit (sometime a little too well lit), they are also convenient to doing any necessary shopping.  Oh, and staying there is free.
I wouldn't want to stay every night in a Walmart (or other commercial business) parking lot, but they are great for getting where you need to go without cost or the headache of setting up, plugging in and then taking down within just a few hours.  And since we are like turtles, with everything we need in the house on our back, it's easy.
Finally, Clearwater for Christmas
We arrived in Clearwater on December 23rd. It was a bit of a trick – the place we had planned to stay didn't work out so we ended up pulling in to daughter Desi's yard at 9:00 pm. The City of Clearwater doesn't really allow RV's in side yards (lived in or not), but Desi cleared it with her landlord and all the neighbors so no one reported us.  We didn't have any trouble.
We ended up staying at Desi's until March 7th.